ISO 9001 :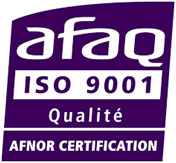 Louis-Simon FAURE strongly believes in People and Processes. These are the core values of success. In order to understand better our evolution, here is a resume of the implementation of our quality system:
2010 : Louis-Simon FAURE decides to obtain a certification ISO 9001 by the AFNOR, in order to continuously improve and to achieve more performance. The team LeaderIA designs and implements the processes, still in place today.
2012 : We are granted our certification ISO 9001 by AFNOR.
2015 & 2018 : Renew of the norm ISO 9001 during the tri-annual audit.
Our expertise of quality process and continuous improvement gained for over 10 years challenges us every single day in order to identify new criteria and thus offer you a more and more qualitative service.
This involves us to safely develop LeaderIA International Search on a long-term basis.
Our committments
In order to respect our commitments, we carry out:
A management of the production quality. Our company commits itself with AFNOR to respect several standards in order to benefit from a performing and improving quality system. The team of LeaderIA International Search respects many requirements to guarantee a relevant recruitment, in total adequation with our customers' expectations and our quality policy.
Management of the company quality system : Continuously improving, we have to strictly respect all our processes and make them change. We thus put in place audits, so that our processes can be checked by a certified expert from AFNOR.
DATADOCK : This is a unic database focused on professional training with a quality dimension. This allows to professional training finance providers gathered in GIE DF to check the conformity of training organisms towards 6 criteria defined by the law.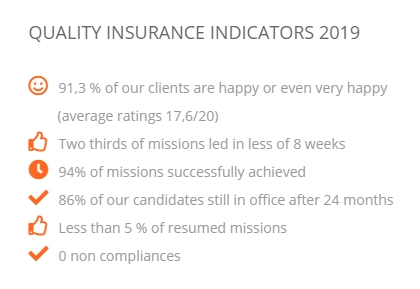 Our « off limit 24 months » rules towards our customers and commitments GDPR :
Our « off limit 24 months » rule consists in working together with our customers in total transparency and not approaching their team neither through direct approach neither through ad campaign.
As strategic partners in sometimes tight sectors, LeaderIA International Search respects an ethical and deontological commitment towards its customers. This is thus unthinkable to approach your employee through direct approach or ads;
We specify that, if a candidate working for our customers applies to one of our offers and that his/her leave is not officially effective nor planned, we are not allowed to include his/her application in the process.
Our « off limit » rule is valid during the 24 months following the date of signature of the latest contract through which you hired a candidate. If, after this period of time, we have not initiated at least a new project, we allow ourselves to invalidate this "off limit" rule.
In the frame of GDPR, LeaderIA International Search guarantees you for transparency and strictest respect of your personal data treatment.
We stay at your entire disposal to answer all your questions about this issue.