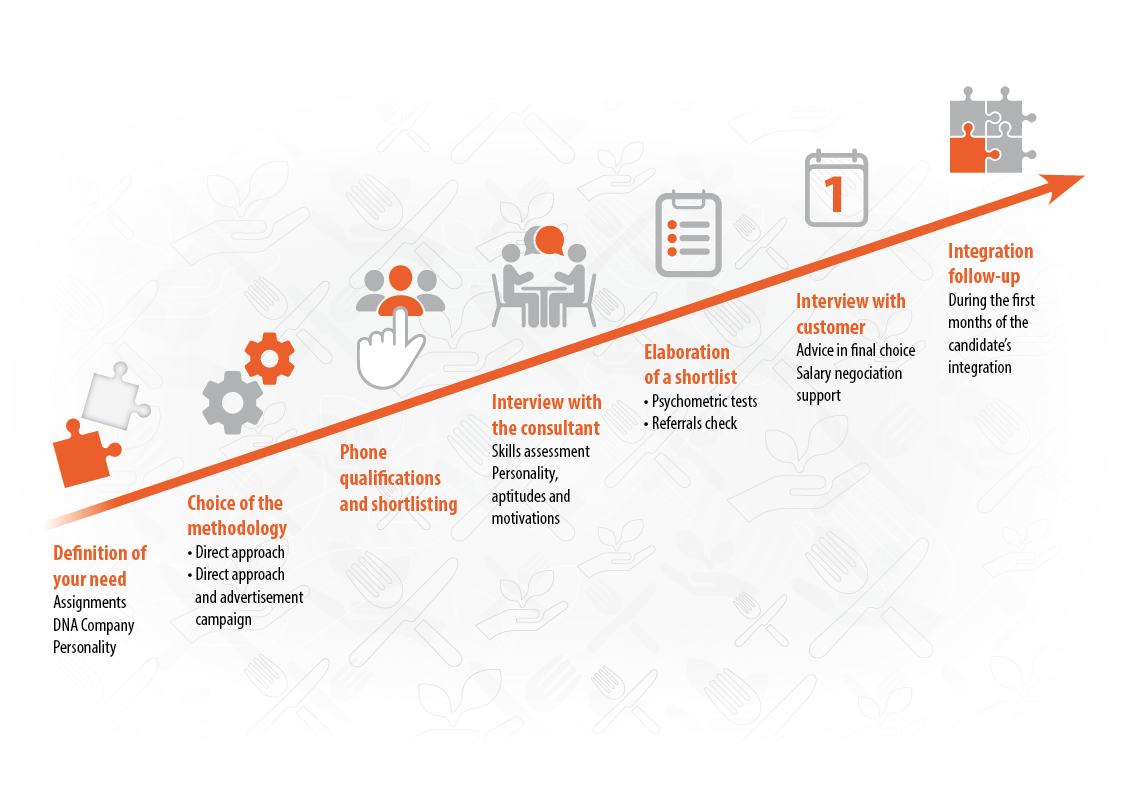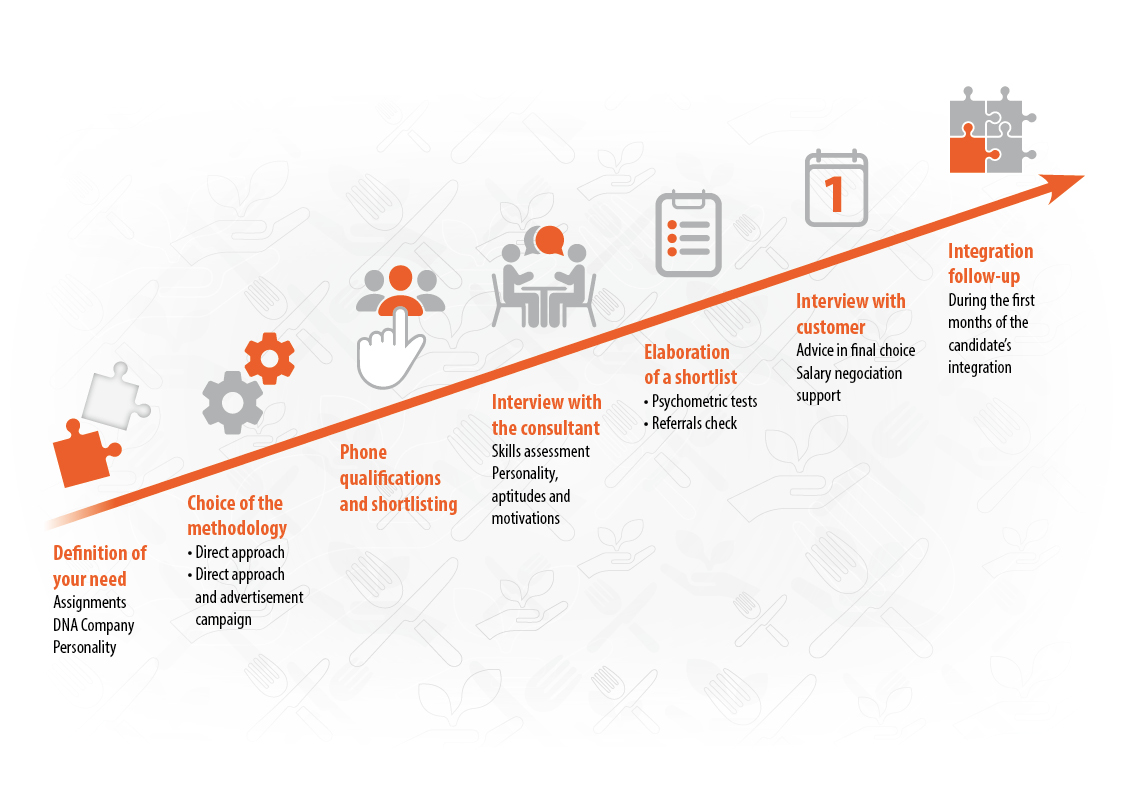 We specialize in recruitment of executives, top executives and experts through total or mixed direct approach within food chains.
We thus carry out the whole process of identifying-finding-shortlisting-integrating while:
Targeting the best people on the market thanks to our economic intelligence approach: we create an appropriate hunting ground based on our knowledge of the sector and identification of analogies.
Shortlisting the best profiles over the phone and then in face-to-face interviews with support of personality (SOSIE, PfPI) and intellectual abilities tests (Raven's Apm III , Watson Glaser III, Dat : Differential Aptitude Test )…
Supporting you in assessing candidates and through the big steps of the process (salary to grant according to market situation, check of internal applications, feedback to candidates, managerial advice…).
Integrating the new employee (integration follow-up every quarter until the end of the guarantee period and sometimes even after)
Select a position to view its detailed description.
Board of directors:President, General Manager, Deputy CEO, Business Unit Manager, Operation Director, Sales Director, Director of Human Resources, Administrative and Financial Director…
Sales in BtoB (foodservice) and BtoC (retail): Sales Manager, National Director of Sales, Regional Director of Sales, Key Account Manager, Technical Sales engineer, Category Manager, Export Director, Export Area Chief, Sales Development Director…
Marketing:Marketing Director, Head of Group, Product Manager, Head of Market, Trade Marketing Manager, Director of Research, Research Officer…
Communication:Communication manager, Event Executive, Art Director…
Sales and digital transformation:Digital manager, Community Manager, Data Analyst, CRM Head of Project, E-commerce Manager, Revenue Manager…
Operations and Production: Industrial Manager, Plant Director, Hotel Manager, Restauration Manager, Regional Manager, Maintenance Manager, Production Manager, Executive Chief, Head of New Works, Manufacturing Manager, Process and methods Engineer…
R&D:R&D director, Head of Project R&D, Technical Director, Packaging Engineer, Food expert, QHSE Director…
Transversal support services: Head of Human Resources, Purchasing manager, Accountancy Director, Head of Tax, Legal Director, Logistics Manager (upstream and dowstream), Supply Chain Director, IT Manager, Information System Manager, Occupational Doctor, Chemist…
Member of the Board
General Manager France and International 
FMCG BU of a leading-edge cooperative group in Europe
Recruitment of a General Manager due to promotion of the predecessor.
Managerial experience of cross-channel sales and marketing team (Super and hypermarkets- Foodservice – Export – Industry) and industrial sites required.
Recommend and implement after approval the company strategy
Increase profitability and create value
Build, federate and develop a performing team
Decline strategy and action plans with a perfect execution…
On middle-term period, having brought new ideas and modifications of the existing strategy with more focus on priorities.
Report to CEO Group.
---
Transformation Director – Rhône Alpes
FMCG BU of a pure player of fresh products : 40 industrial sites
Recruitment due to conduct of change.
Expertise in industrial companies transformation required.
drive, organize and carry out the lead of strategic projects
Guarantee a general coherence and interdependences of projects for all the sectors of the company: marketing, sales, supply-chain, HR, quality…
Conduct change in relation to HR department
Support the General Manager to implement decisions and managing entities monitoring
Drive a network of leaders for strategic projects and of project leaders
Report to the General Manager
---
Operations Director Group – Paris
Family-owned hotel group with a « trendy » and « top-of-the-range » positioning, strongly growing in Europe
Recrutement du directeur des opérations dans le cadre d'une création de poste.
Recruitment of an Operations Director due to job creation.
Experience in luxury trendy experience in hotel-restaurant field required.
Define the strategy of the group to grow
Implement and optimize the services
Define, write and implement quality standards of the group
Follow-up the renovation works started for hotels
Carry out operational procedures, HR, financial…
Report to general Manager of the group
Operational functions
Business Unit Director – Food Ingredients – Britain
Multi-sector cooperative well-known in the Britain territory
Recruitment of a BU Director due to job creation in order to develop acquaculture. Feed, fish feed market, sea food and international experience required.
Develop the turnover while targetting new international customers
Develop new solutions
Manage and federate a team, waiting for a new manager
Play the part of a Head of Business Unit, able to find support from technical and sales experts
Report to General Manager of the company
---
Director of operations – trendy restaurant – Paris
Group of commercial catering with emblematic restaurants
Recruitment of a Director of operations for a very trendy and famous restaurant in Paris.
Experience in trendy restauration with high volume required.
Manage the site with autonomy
Guarantee excellent relationships with high-demanding and premium customers
Manage 100 employees to guarantee high-volume services with quality and effectiveness
Develop the sales of the group
Insure the good financial management
Report to Operations Manager of the department
---
Industrial multisites-Director – Animal nutrition – West of France
Customer specialized in powder milk ingredients for children and animals.
Recruitment of an Industrial Director due to retirement.
Strong managerial experience with staff representative bodies and industrial process expertise (cosmetics, pharma, …) required.
Coordinate 3 production sites
Manage 150 people
Drive, analyse and optimize production with respect of quality and safety standards in a very strict environment
Adapt formulations to worldwide norms and promote innovation at the same time
Report to General Manager and Industrial Director Group
Sales and Marketing functions
Food-service Director – Toulouse
Subsidiary of a multinational company, big French SME very famous to consumers thanks to its brands
Recruitment of a new Foodservice Director due to growth ambitions
Cross-channel expertise of Foodservice required.
Create a Foodservice department from scratch
Recommend network and customers to as targets
Recommend and adapt products and channels according to Foodservice requirements
Recruit and federate a new team with a profitable P&L
Report to Head of Sales
---
International Head of Product – Paris
Subsidiary of a French food pure player with international implantations
Recruitment due to job creation in order to reinforce the company's visibility on the inetrnational stage.
Super and Hypermarkets + Foodservice knowledge and brand activation experience required.
Develop the brand in Foodservice
Increase the notoriety in Foodservice
Support sales force to decline the 4 P
Optimize interactions within the existing portfolio together with food experts
Report to Head of Group
Support functions
Buyer fresh products – Paris
National comercial catering Group
Recruitment of a buyer dedicated to fresh food products due to job creation to optimize his/her categories of products.
Experience in fresh products purchasing required.
Implement tools and buying processes
Implement monitoring tables
Analyse the markets and rationalize purchases
Negotiate
Follow-up financial results, quality and availability of products
Report to Purchasing Director with possibility to evolve on managerial functions
---
Sales Controlling Officer – Britain
French agrofood company active on Super and hypermarkets, Foodservice/OOH channels
Recruitment of a Sales Controlling Officer due to job creation in order to promote a financially better structured activity.
Experience of Controlling in an environment of super and hypermarkets required.
Build and manage the financial standards according to the financial strategy
Deploy controlling and information system tools
Analyse and report the sales performances
Define the budget construction and enforce them to operational people
Report to Finance Director
---
R&D process Engineer – Milk products – East of France
Subsidiary of a French giant specialized in milk products
Recruitment of a R&D process Engineer due to job creation in order to improve existing processes and impact products and technologies and to better priorize investments.
Processed food products and R&D skills required.
Implement projects to develop technologies
Insure technology and internal/external processes scanning
Bring technical advice for existing projects and those coming from planned investments
Support process and methods teams to create a technical implementation structure
Report to Technical Director