15/02/2023
Senior Women Facing Ageism: The Human and Economic Consequences of Absurdity
Alas, the latest figures published by DARES on the employment of Senior Women in France are very alarming: only 50.9% of women aged 55 to 64 are employed.
And of course, sexism unfortunately doesn't stop where ageism (sic) begins, the difficulties with employment come earlier for women than for men: 57% of 55-year-old men are working compared to only 53% of women…And the average duration of unemployment registration past 50 is also higher for women (736 days) than for men (685 days).
All this gives France one of the lowest employment rates for Senior Women in the Euro Zone… And this while the multiple pension reforms require women to contribute longer to have a full pension. And on this hostile labor market, the position of those who are already 60 years old is even more critical, since only 33% of French people of this age have a job.
Faced with these figures, the path seems considerable to advance the cause of older women at work. But several levels of action are possible! First of all, we can carry the fight against sexism by publicizing the inter-company initiative carried out since 2008 by Accor, EY and L'Oréal "Stop ordinary sexism in the workplace" #StOpE
And also, individually and collectively, raise the debate and the speeches by sharing around us the contents and the articles publicizing the women of more than 50 years old, famous and unknown and their successes.
And then, exercising a professional activity in a management position can be a very strong lever to contribute to the building:
On this point, the testimony of Marie-Christine Albini, who has just joined the hotel Le Saint Rémy ***** as Director of Operations through our firm is very inspiring: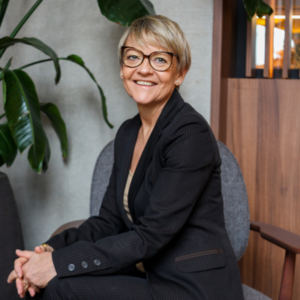 "I wish everyone to be welcomed for their skills, and that maturity is seen as an advantage for the company"
Marie-Christine was 52 years old when the Covid-19 crisis damaged her professional field: the hotel industry. And it is then a completely new reality that strikes the one who has never used this term "senior" until then: when you reach your fifties, age is a hindrance to recruitment, even when you have not known only as a career that had been in constant progression until then.
Marie-Christine tells it, it was very difficult to become a statistic yourself, she first felt discouragement and deep distress. And then, she sought help by calling on employment professionals, and it was this dynamic that carried her through her long months of research. Marie-Christine greatly encourages people looking to contact APEC, and to solicit recruitment firms. And also to afford the services of a professional photographer to take beautiful photos for the CV and LinkedIn!
And today, back in a position she adores, Marie-Christine in turn carries the essential values ​​that have helped her: mutual aid and the transmission of experience. And when she recruits, she finds herself now opening doors more easily to senior women, especially for the summer season.
An important step would certainly also be to prefer to call these women "Experienced Employees" instead of "seniors"…
In addition, and this is not the least of the paradoxes, we can now see how great the damage is for companies that sacrifice experience and the ability to decipher the issues with hindsight, and who find themselves in the grotesque situation of having to outsource and resort to external consultants… seniors!
Anne-Marie Guillemard confirms in her Podcast "Work in progress", that it is very worrying for the French productive apparatus to no longer have the possibility of transmitting experience to juniors.
Thus, putting an end to the taboo of age, and prejudices will go through intergenerational cooperation and transmission. This is also well understood by Danone, which has been working for ten years now with its Octave program to promote cooperation between generations.
As we can see, for the good of society as a whole, it is high time to abandon this ageist and sexist vision of the world. Let's say it, let's say it again: age is not a factor of professional incompetence! What company really benefits from doing without women who have vision, experience and hindsight, composure and a salutary mastery of deciphering the issues? Behavioral skills, "soft skills" are not learned, they are acquired through experience: relational intelligence, communication skills, character, interpersonal skills are invaluable assets, it is obvious
And everywhere, initiatives in favor of employment after 50 years are multiplying, such as these 10 commitments, launched by L'Oréal and the Dandoy club. Mentalities are changing, individually and collectively, and we can all do a lot to advance the cause of fifty-year-olds at work. So, let's not be afraid any longer and let's mobilize against these harmful and counterproductive prejudices! Watch Ashton Applewhite's terrific Ted Talk, full of infectious peach: "Let's End Ageism"
She says it so well: "Aging is not a problem to be fixed or a disease to be cured, it is a natural and powerful life process that unites us all".